MASTROTIG 218 DC - TIG DC DECA Viet Nam
Mô tả:
Phân phối thiết bị DecaWeld tại Việt Nam
200 Amp; imput voltage 1Ph 230 Volt Pulse; Easy Pulse; TIG HF; TIG Lift; TIG 2T-4T; Hot Start; Antisticking; Arc Force.
Description
Code: 284100 power source with cables, torch 140A, earth clamp


MMA welding in direct current DC
It allows to weld with many types of electrodes and materials: rutile, basic, stainless steel, cast iron, etc.
HOT START adjustable. For easy electrode striking. Useful especially for "difficult-to-start" electrodes.
ARC FORCE adjustable. Enables to control the welding penetration and improve the arc stability.
ANTI – STICKING. No electrode sticking.
DC TIG welding
DC: direct current to weld steel, stainless steel, titanium, copper, bronze, nickel.
PULSE: The welding current is pulsed. Main current "I (Amp)" and base current "(%) I" alternate. Particularly suitable for welding thin thickness, where minimum heating of the piece is necessary, and suitable for welding in all positions.
EASY PULSE: Pulse frequency, "PULSE (Hz)", and base current "(%) I" are adjusted automatically depending on the welding parameters selected.
BI-LEVEL: two different current settings are selectable during welding process. Extremely useful for complex welding, welding over variable thicknesses or for welding on position.
TIG HF - LIFT striking: TIG welding with high frequency arc striking - TIG welding with LIFT ARC striking.
2T (manual): press and keep the torch trigger pressed to weld, the weld will stop as soon as the button is released.
4T (automatic): press and release the torch trigger to start welding, the weld will last until the trigger is pressed and released once again.
SPOT: TIG welding finishes automatically once the pre-set time has elapsed.
Program saving. The mode settings and the parameters set can be saved to the machine for future use. There are 9 programs to be saved.
Tig welding: adjustable parameters (see picture)
a) Ø mm: Select the diameter of the tungsten electrode. Based on the diameter selected, the machine determines the welding current interval that can be used without damaging the electrode.
b) PREGAS: Pre-gas time adjustment.
c) SLOPE-UP: Adjustment of time at which the welding current is brought from the initial value (arc start) to the main value "I (Amp)".
d) I (Amp): Main welding current adjustment.
e) (%) I: In the "PULSE" and "BILEVEL 4T" modes, it adjusts the base welding current, expressed as a percentage of the main welding current.
f) SLOPE-DOWN: Time at which, once the torch button is released, the welding current is brought from the main value to the final value (end of welding).
g) POSTGAS: Post-gas time adjustment.
h) PULSE (Hz): In the "TIG PULSE" mode, it varies the pulse frequency.
m) T (SPOT): In the "SPOT" mode it varies the duration of the welding point.
Features
Included accessories
Optional accessories
MASTROTIG 218 DC - TIG DC DECA Viet Nam
Bình luận của bạn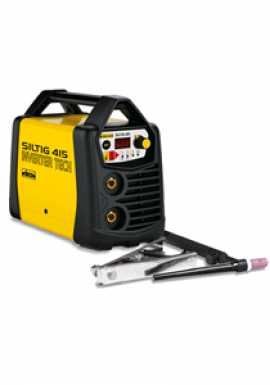 SILTIG 415 - TIG DC DECA Viet Nam
5

,

1
1

-

1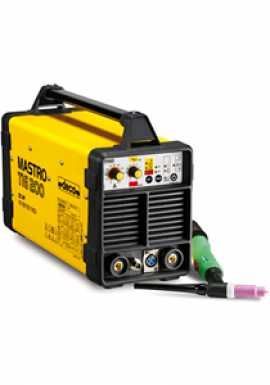 MASTROTIG 200 - TIG DC DECA Viet Nam
5

,

1
1

-

1

Danh mục hãng cung cấp
Trực tuyến:

2

Hôm nay:

605

Tuần này:

1143

Tháng trước:

9959

Tất cả:

274706